About Us – Austin Party Shuttle
The following are amenities available in the Austin Party Bus Shuttle.
* Seating for 14 comfortably
* Large sized ice chest
* Dual – Factory Air Conditioning
* Bluetooth iPhone and Android
* Booming sound system
* Colorful lights
* Limo Tinted Windows
* Courteous, Professional, Punctual and Knowledgeable Drivers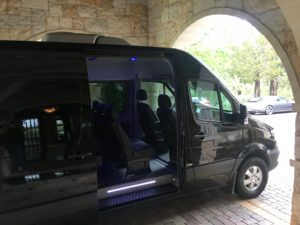 We have been successfully transporting groups for over two years now. Many people find our service valuable and a great way to party safely without worrying about driving under the influence. Austin Party Shuttle started with ACL offering rides to and from the event and to 6th and various locations afterward. From there we branched out. We're sure you will enjoy your time with us and as time goes by we will only improve more and more.
Some of our clients have enjoyed  trips to the Hill Country for Wine Tours. We have taken a group to Louisiana for a Casino Adventure. Multiple Groups call us for bachelorette and Bachelor Parties. Many have rented the Austin Party Bus Shuttle for their birthday parties. Brewery tours are popular. We even had a crew go from place to place for BBQ. YUMMY! We will shuttle you to and from your destination, drop you off and pick you back up. You can stay in the bus and enjoy the sights. It's really all up to you.